BITCOIN MINING
Hash Generator™
Natural gas generator + loadcenter in a compete, plumb & play skidded package!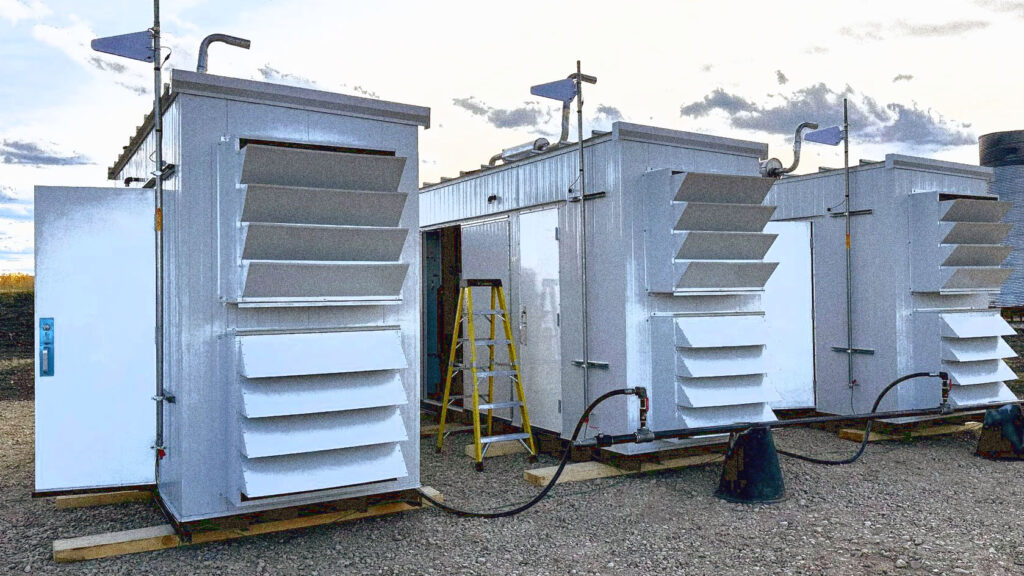 Check out our detailed Hash Generator™ 90 kW walkthrough
LoadSync™ Controller
Add our patented LoadSync™ Controller to your loadcenter for automatically managed load response.
Smart PDU
Upgrade to smart power distribution with remote / automated circuit control and metering! 480V service available.
480V Service
Connect directly to 480V without costly step-down transformers (custom ASIC PSUs may be required)
Customization
We manufacture steel buildings custom to our customer's needs. We can build your loadcenter in the color to match your brand.
SPECS - Air Cooled Hash Generator™
 
Hash Generator 50
Hash Generator 90
Hash Generator 180
Rated Power (kW)
50
90
180
Engine - Prime Power Rating (kWe)
65
100
200
EPA certified
No
Yes
Fuel Type
Natural Gas / Propane
Estimated fuel consumption (Mcf/d)
12
25
50
Electrical Input
3-phase, 416Y240V, 60 Hz
Main Breaker Rating (A)
150
200
300
Main Switchgear Included?
YES
AC Module Quantity
1
1
2
Total Rated CFM
8000
19500
39000
VFD (HP)
N/A (single speed)
10
10
Server Slots
12
24
48
HASH GENERATORS

Hundreds of Hash Generators all over North America
In 2017 we introduced the world to conserving vented and flared natural gas via bitcoin mining and have constantly improved our modular Hash Generator™ product line ever since.
We optimize power generation in both the utility power industry and the oil and gas sector.